Welcome to Jeddhi Boxers
Our interest in boxers started in 1991 with the purchase of two red males from mostly Bockendon and Brockendorf breeding. We started off doing obedience for a while then decided we wanted to give showing a go, we quickly realised that Bud and Red were not of show quality so we went ahead and bought our first proper show bitch from Sheila Law 'Blupines Boxers' and as they say, 'we were hooked'.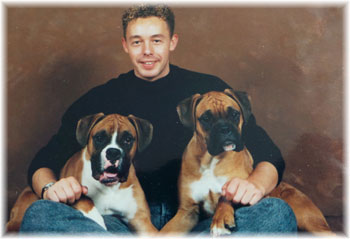 The reason why we embarked on our life in Boxers;
Steve with Red (Sequoia Red) & Bud (General Budwiser)
Litter brothers who lived to 12 and 13
In 1993 along with my partner at the time Paul Melville we registered our Affix 'JEDDHI'. Our affix continues today with a separate interest in it with my current partner Derek McCarthy.
I judged my first All Breed Open Show for Hillsboro and Dist in 1998 and have worked my way up through all the judging lists passing the exams and seminars to finally award CC's in Bitches at the Midland Boxer Club in 2010.
I served on the Northern Boxer Club for a number of years and am now Treasurer of the Anglian Boxer Club of which Derek is also a committee member.
Steve & Derek have another passion as well as Boxers which is their stunning Horses.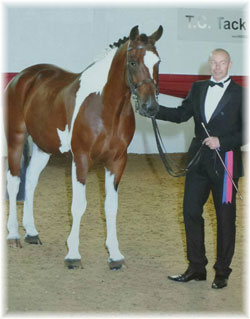 Feel free to browse our Scrapbook to see some of our favourite photos





Hot off the Press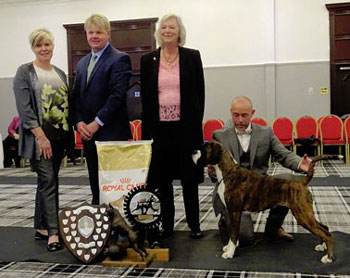 Lily wins overall TOP DOG at the CBC DOTY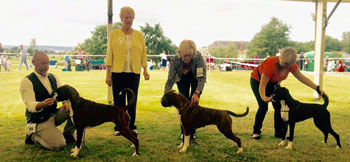 Jeddhi have a New Champion - Lily wins her
crowning CC at Paignton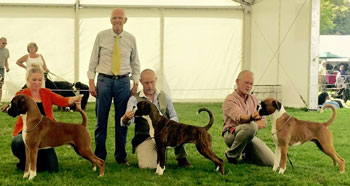 Lily wins Junior and her second CC at Leeds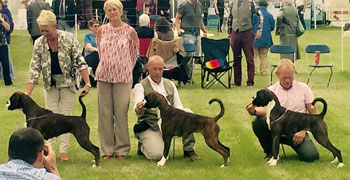 Lily wins the Reserve CC at Windsor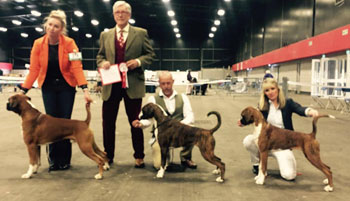 Lily wins her first CC at SKC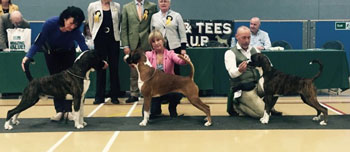 Lily Best Puppy in Show TW&Ts

Judging Appointments
Steve Gething is approved to award CC's in Boxers
Click HERE for past appointments